Our Approach to a Global Agreement
We agree with the importance of sustainable consumption and production and creating well-designed plastic products that enable waste minimization. We also agree that creating universal access to collection and environmentally sound waste management is a key step toward circularity. Eliminating plastic pollution is not achievable until we close this gap and create a circular economy in which used plastics are no longer perceived as waste.
We're championing a global agreement to achieve the goal of eliminating plastic pollution while retaining the societal benefits of plastics. Our approach reflects our vision and ambition, as well as our unique knowledge and technical capabilities as innovators and solution providers. It also reflects the need to respect each country's unique situation and work collaboratively to accelerate progress toward eliminating plastic pollution.
To eliminate additional plastic pollution by 2040, a global agreement must recognize the importance of:
Circularity
Sustainable consumption and production.
Products designed for longer use, reusability, and recyclability
High recycling rates that return plastics to new production.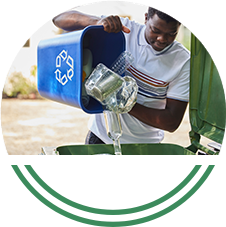 ---
Eliminating plastic pollution
Universal access to waste management.
Unlocking public-private investments.
Economic incentives to prevent the loss of plastics to the environment.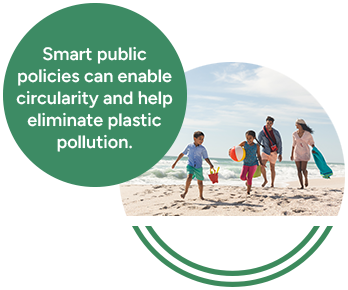 ---
Social impacts
Participation and social advancement of the informal sector waste/recycling workers
Behavioral change among all stakeholders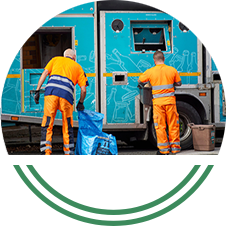 Plastic Circularity
In a circular economy, actions by each player in the plastics recycling chain enables the other players… and builds circularity. For example, investments in collection and sortation enable re-processors and plastic material makers to make more recycled plastics.